The「OFDA China Innovative Office Furniture Design Awards」 ceremony took place on March 26 in Pazhou, Guangzhou, and was a success. The Roc, a subsidiary product from GTChair, was recognized as the Top 10 office seating furniture.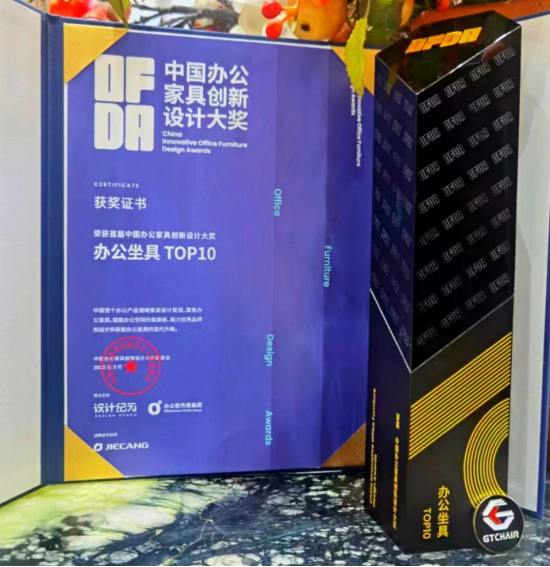 The High-Quality Product Stood Out and Won the Award
As an award for vertical design in the realm of office products, the 「OFDA China Innovative Office Furniture Design Awards」 emphasizes empowering office environments through innovative and modern furniture. Focusing on the humanized, modular, functional, and intelligent designs, the award seeks to identify the most design-oriented and commercially viable projects or products through fair and professional review process, so as to foster the office product design sector.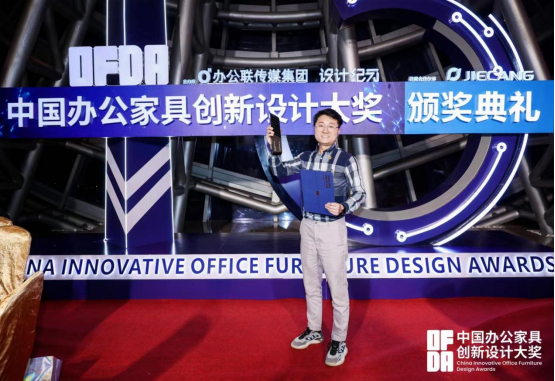 Li Jiahua, the Operations Director of GTChair
GTChair was chosen from among hundreds of projects or products following a thorough selection process by a strong jury made up of seven experts from various branches of the office industry, both domestically and internationally. This was due to its exceptional quality, excellent design, positive consumer reputation, and brand philosophy, which is in line with the competition's theme. GTChair has won the China Innovative Office Furniture Design Awards and has been recognized as one of the Top 10 office sitting furniture.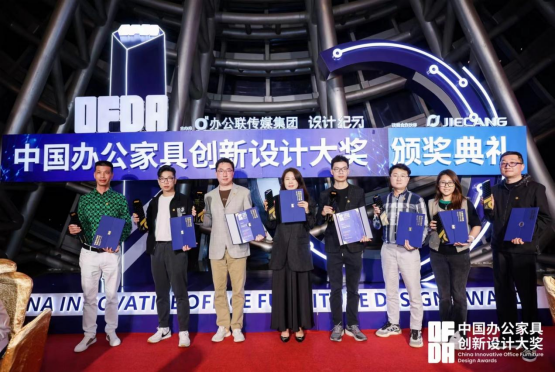 TOP10 Office Sitting Furniture
Focusing on the quality of products, it is the leader in upgrading office seating furniture
The Roc series is GTChair's flagship product. It creatively produced a ground-breaking chair with no pressure on five senses while retaining GTChair's comfortable and healthy ergonomic sitting experience.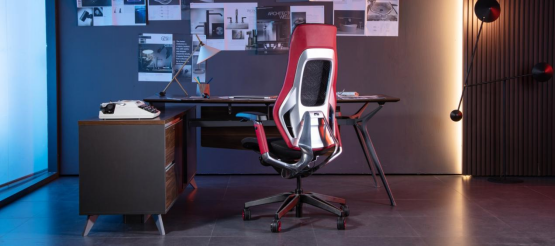 In terms of vision, internationally acclaimed designers created the stunning Roc, drawing inspiration from the Chinese idiom "the great Peng(a giant divine bird) spreads its wings", which symbolizes the beauty of striving for the sky. Peng's soaring is presented by the overall design, which blends the designs of supercars and rockets. The combination of red, black, and silver is an innovative way to incorporate Eastern aesthetics.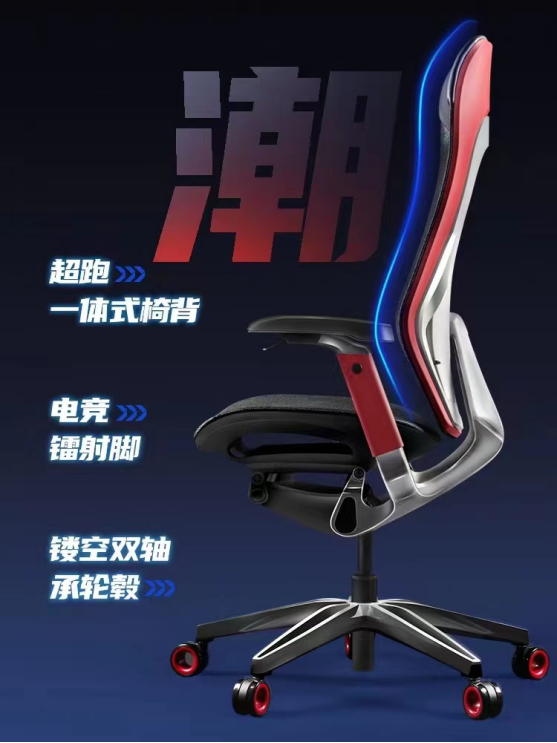 In terms of the sense of touch, the GTChair's exclusive 5D paddle shift wire control armrest, which has a ground-breaking one-click operation that is 8 times faster than conventional seat control and enables users to enjoy comfort in just 0.32 seconds, is carried over to the Roc series. In order to provide sedentary persons with a more intelligent and practical user experience, the Roc series also has an AI intelligent button to change the seat depth.
In terms of physical experience, the Roc series features a design that mixes top-grade mesh woven with patented suspension weaving technology with Italian top-grain leather. The armrest support, backrest design, chassis, and dial are all precisely developed to provide sedentary people with a very comfortable physical experience.
In terms of the sense of hearing, both micro-molecular mute processing technology and the anti-gravity mute device have given users the silence.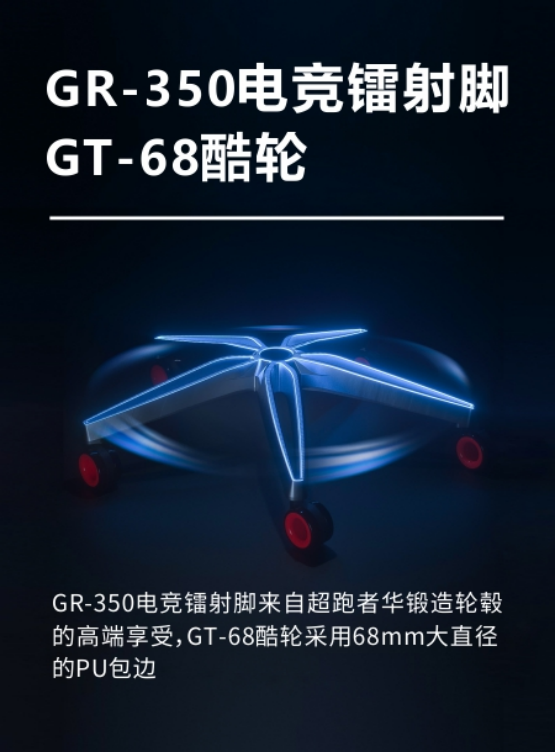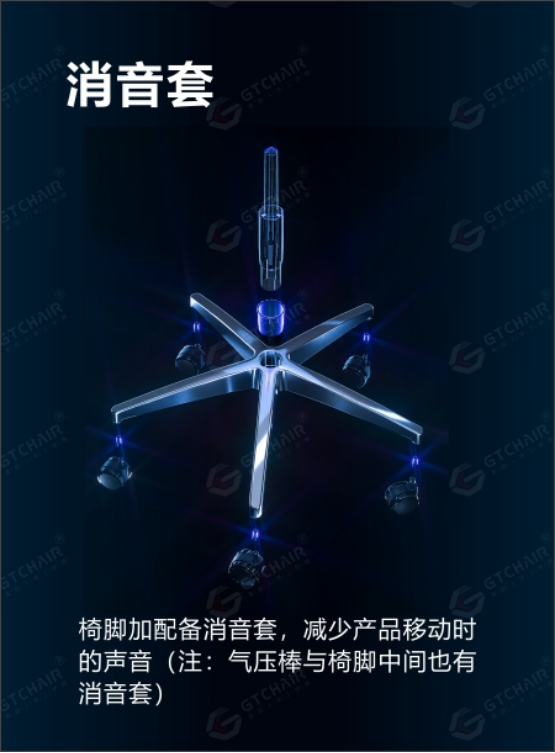 In terms of olfactory experience, GTChair has been tested and certified by 9 international authoritative testing institutes for 13 straight years, with dozens of environmental protection tests satisfying the top international standards in China, Europe, North America, and other nations. This results in a totally healthy and environmentally friendly product that sedentary people can use with no worries.
From appearance designs to craftsmanship, material selection to detail design, GTChair always stays true to the brand purpose of making sedentary people healthy and pleasant. It strives for excellence in product development and manufacture, enabling sedentary people from all walks of life with more comfortable, healthier, cutting-edged and tailored choices for chairs.
GTChair, which conducts independent research and development on ergonomic chairs, has expanded its products beyond the workplace to entertainment and home settings, and its market presence has increased from China to 80 countries globally. The brand has caught the attention of both the industry and customers.
Participating in CIFF Once Again, It Offers Future Sedentary Lifestyle Ideas
GTChair has always taken the path of insight into new types of future office forms and investigating more possibilities for office sitting, and it will continue to do so in the future.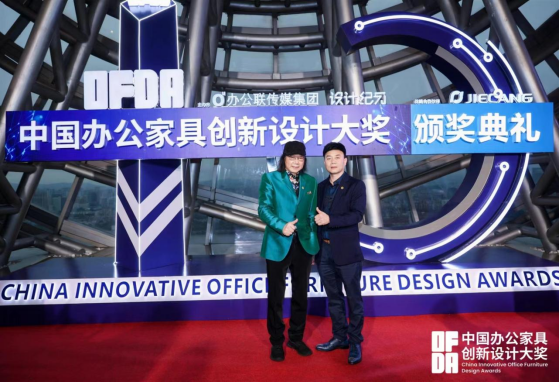 Xu Zhaoming, the founder of Office Union & Tan Ganrong, the founder of GTChair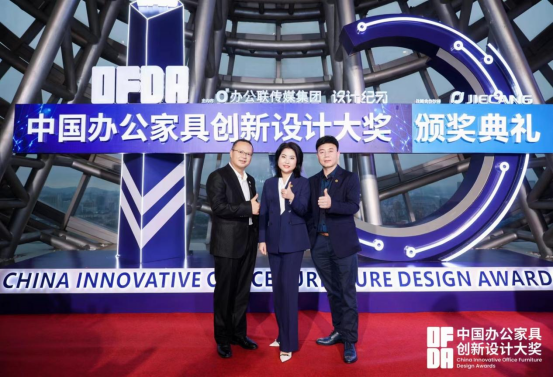 From left to right, they are:
Ou Wuxiang, Executive President and Secretary-General of Guangzhou Design Industry Association
Liang Xiaoyan, the General Manager of the Office Union Media Group
Tan Ganrong, the founder of GTChair
As a domestically originated high-end ergonomic chair brand, GTChair conforms to the brand purpose of "Serve for Sedentary People Worldwide". GTChair is committed to giving physical and mental relaxation to this group of people by exploring and producing office chairs that are more ideal for them.
What will be deemed more appropriate healthy office seating furniture for prolonged sitting in the future? How can intelligent and convenient sitting solutions be tailored to the needs of sedentary office workers? How can we break free from the constraints of office seating design and establish a new aesthetic trend in the workplace?
"The Universe Is Boundless" themed exhibition hall of GTChair was unveiled at the 51st China International Furniture Fair from March 28th to March 31st, 2023, giving answers to the future of healthy sitting lifestyle with a futuristic theme exhibition.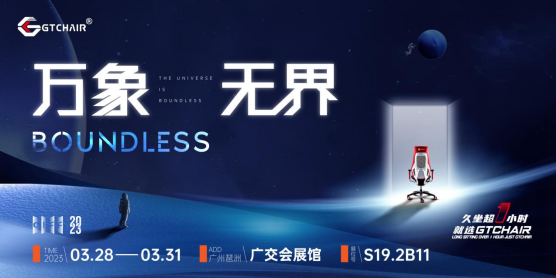 For the sixteenth year running, GTChair participated in the China International Furniture Fair. With its new products, the Roc-Pro series. GTChair also unveiled a dozen of new products during Guangzhou Design Week. It created new trends through innovation, and provided a fresh example of sitting for the future.
March 28 - March 31, 2023
At the Guangzhou Pazhou · China Import and Export Fair Complex
Booth S19.2B11
GTChair's 「The Universe Is Boundless」 Themed Exhibition Hall
Looking forward to seeing you in Guangzhou!